Dimensional Inspection
Dimensional inspection with industrial CT scanning is 90% faster than traditional methods while maintaining the accuracy and repeatability standards of CMMs and optical measurement systems.
What Makes Dimensional Inspection with CT Scanning Faster
For complex parts, mold validations can run for weeks or even months. Performing a dimensional inspection saves you hundreds of hours and speeds up your validations so you can get your products to market faster.
CT scanning is capable of all GD&T measurements. No fixturing is needed as parts are scanned in 360 degrees in their free state on expanded polystyrene (Styrofoam) platform, and the 3D data is aligned virtually in the software.
How Dimensional Inspection Works
We create inspection programs with our advanced metrology software using only the CAD model and part drawing without parts in hand. This advantage allows programming completion while the mold is being built, saving hundreds of hours from the project timeline. Parts are scanned non-destructively in their free state, and the 3D point clouds are aligned virtually, removing the need for fixtures and physical cross-sectioning. All 3D scanning inspections are accurate within 5-7 microns. Scanning multiple parts at one time is possible. See the example in the video!
What You Will Receive:
A Dimensional inspection report, that looks like this: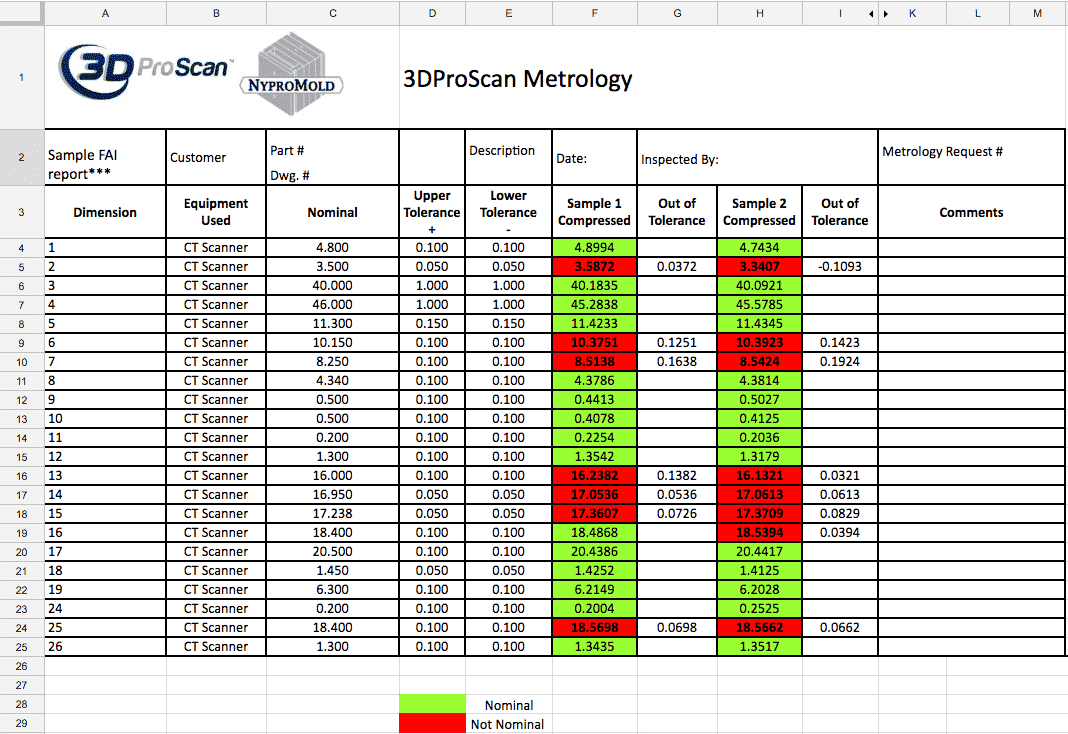 ct scanning dimensional inspection, dimensional inspection, dimensional inspection report
Request Dimensional Inspection CT Scanning Quote
We do not inspect/measure Basic or Reference dimensions unless asked to do so ahead of time.